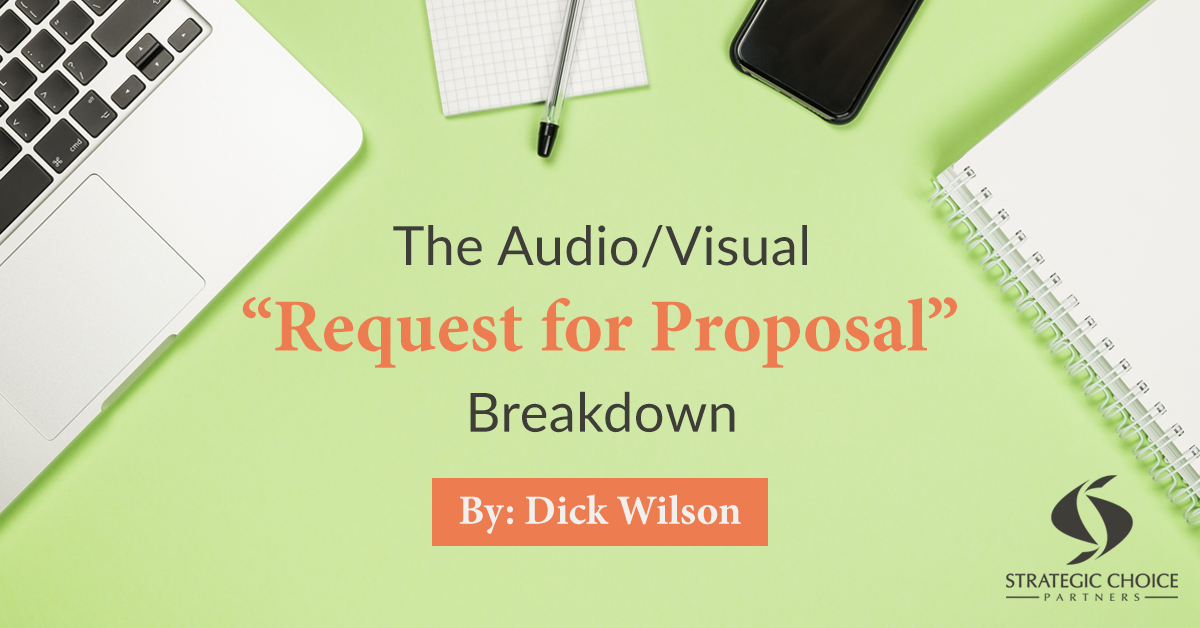 In my last blog, "Should I Use the In-House Audio/Visual Company or an Outside Supplier?," we explored the reasons for considering an outside a/v company vs. an in-house supplier. Now it's time to deal with the RFP (Request for Proposal) document itself.
Begin with a Brief Overview
Begin with a very brief overview of the event: who, what, where and when. Be specific as to dates, location and attendance.
Here's a typical overview:
Typical Home Parties, the direct sales division of Typical International, is having its 2018 "Believe It" National Convention at the Mammoth Hotel, in Mammoth, New Jersey, from July 27-29, 2018. The event will be held in the Bodacious Ballroom, which has approximately 12,500 square feet of space. The program will consist of equal parts promotional announcements, recognition and training for a largely female audience of approximately 500. Seating will be at rounds.
I usually end the paragraph with a room diagram photo or a link to it. It's also helpful to include a link to your own company's website. Other than that, you don't need to go into more detail about your company.
Include an Outline Schedule
Next, include a brief schedule that shows generally what will be going on and when. Don't bother with a detailed presentation-by-presentation schedule. Instead, offer a "glance-able" calendar-type schedule, something like this: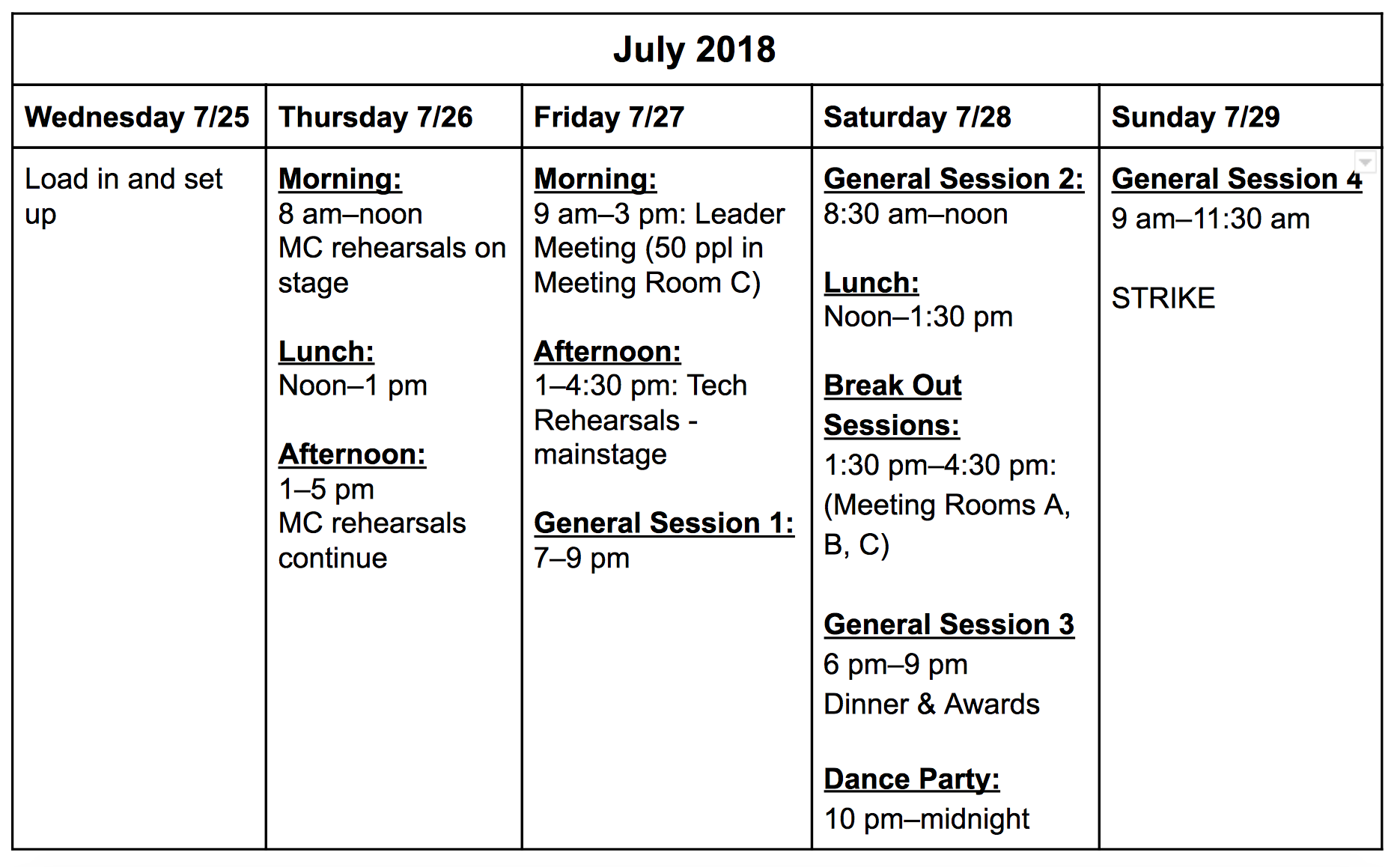 State Your Needs
Don't try to get technical, just describe what you need equipment to do from your perspective. If you can be more specific, that's great. Definitely include basic dimensions, such as the approximate size of your stage and the number and size of your projection screens.  Here are some examples:
Lighting package and crew:

The stage will often be full of people for recognition, so we need enough general stage lighting to fully illuminate the stage. Most other presentations will simply be an MC speaking from the lectern. No spotlights needed, just general stage lighting.
The appropriate crew for install, show and strike.
Sound package and crew:
Sound system to fill the room. Music is a big part of our meeting, so we need speakers with good bass qualities (sub-woofers.)
One lectern microphone plus 2 wireless handhelds or lavalieres.
Onstage and backstage audio monitors.
Audio mixing board with 6-8 inputs, including one dedicated laptop for music playback. We will supply laptop and operator.
The appropriate crew for install, show and strike.
Projection package and crew:
Two off-the-stage side screens, 10 ½' x 14' or possibly 9' x 12'.
Projection equipment for Mac supported visuals (Keynote with embedded videos). The client will provide laptops and operator.
The appropriate crew for install, show and strike.
Staging:
Hotel risers to create stage area approximately 40' wide, 20' deep, and 24"-32" high (depending on the height of the hotel risers).
Pipe and drape to cover back of the stage. Create wings and a close-in area between screens and upstage drape.
One lectern at stage right or stage left.
The appropriate crew for install, show and strike.
Most important, tell the company exactly what your total a/v budget is, including labor, gear, everything. In short, what do you have to spend? A/V companies are accustomed to working with all ranges of needs, but they have to have that dollar figure to give you an informed bid. And often, they can be pretty flexible when it comes to gear, even if your budget falls short of what that gear might actually cost.
Include Photos & Diagrams
If you have stage photos or room/stage diagrams from past events, include them. Wide stage shots showing the entire stage and screen area are best. These will go a long way in helping the a/v company understand how best to fill your needs.
Your Closing
Be sure to give the name and contact information for the person who should receive the bid. And ask for a bid that spells out the details, otherwise, you may get a bunch of lump sums like "Lighting Package = $3,500." I usually end my RFP's with a paragraph like this:
Please submit proposals by email (Word, Excel or PDF files only) by Monday, May 9, 2018, to (your email). Questions may be directed to this email or phone number ________. Also, please show us how you arrived at your pricing, i.e. daily rental times for so many days, hourly labor rate times so many hours, etc.
Creating a good RFP is a big part of the convention production process. It's also your introduction to the people who will be partnering with you to create a successful event. Make sure the RPF you send makes it easy for a/v companies to understand and respond to your needs.
Related Resource

About Dick Wilson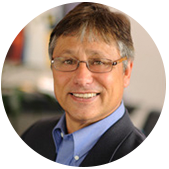 Dick's handy combination of both left and right brain abilities enables him to offer an eclectic menu of creative, production and organizational talents. As Marketing Director for Dorling Kindersley Family Learning, and before that, Director of Presentations for Tupperware, Dick has over 20 years experience managing budgets, projects and people, while implementing corporate objectives.
Because Dick's an accomplished print writer, audio/video copywriter, promotional writer, script & speechwriter, director/producer of conventions & events, he can craft an effective message in almost any medium. He understands how to motivate, inform and entertain a direct sales audience.
Learn more about Dick on his bio page, and contact us at info@strategicchoicepartners.com if you'd like to discuss how Dick and SCP can help your company.