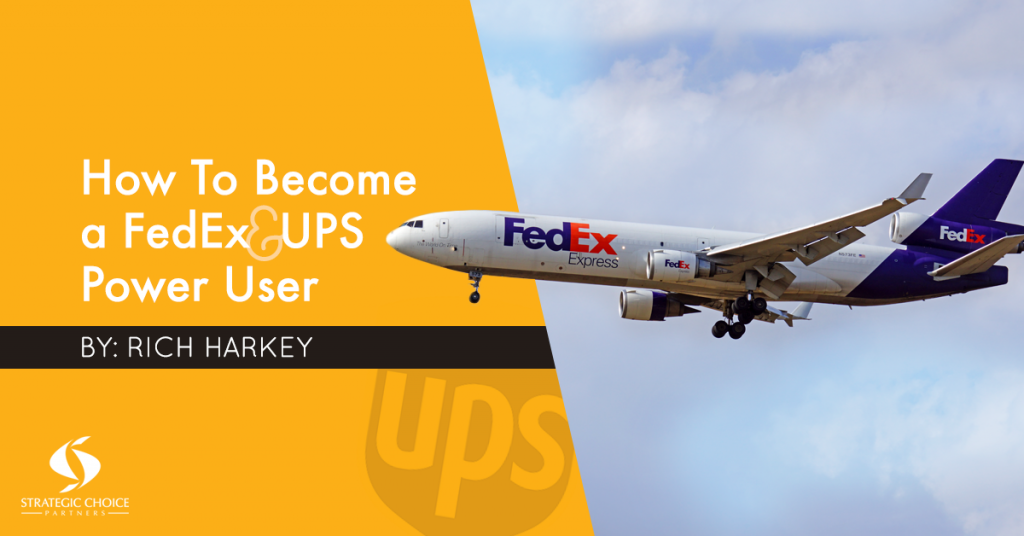 Small parcel shipping has become an integral part of today's business environment.
UPS and FedEx dominate the parcel shipping industry with a combined market share of over 90 percent. This commanding position allows the carriers to dictate pricing and contract rules. Despite the carriers wielding so much control over its users, well-informed Power Users of UPS and FedEx can still maximize their savings potential.
Although there are many similarities in UPS and FedEx contracts and pricing details, there are several noteworthy differences. Power Users of UPS and FedEx recognize these differences and utilize them to their full advantage. Similarly, both UPS and FedEx have operational strengths and weaknesses, despite being comparable overall in terms of service and reliability.
Power Users understand differences in:
Time in transit
Pick-up and delivery times
Quality of account representation
Technology subsidies
Power Users also know how to leverage little-known carrier programs that can boost service levels and reduce costs as well as extract valuable data from their carrier billing detail. We can group all of these into our Power Users R.U.L.E. acronym. Where Power Users:
Recognize contractual variations and potential pitfalls
Understand respective carriers' strengths and weaknesses
Leverage little known operational and contractual programs
Effectively mine information within carrier billing data to identify inefficiencies
There is a multitude of factors that influence the price you pay to ship a package. Recognizing the factors that you can control and influence will help you gain the upper hand on the carriers.
Controllable Price Factor

Service Level
Zone
Carton Size
Discounts


Uncontrollable Price Factors

Scale Weight
Residential vs Commercial
Destination Zip Code
Commodity
Value
Let's see how your carrier billing detail can help you solve for each of the controllable price factors.
Service Level
Power users recognize that even though a service has "Air" in its title, it does not mean that the package will ever see the inside of an airplane.
The usual reasoning behind the use of Air services include:
"I can't ship it ground when we charged the customer for 2-day service"
"The customer is paying for it so who cares"
We want to make sure the delivery is guaranteed
There isn't a mechanism to identify time in transit
Use your shipping data to filter down to the service level to estimate how many of your air/express shipments can be shipped via ground instead.
Be sure to keep in mind the Ground Rules of Thumb:
Zones 2 & 3 equals overnight
Zones 4 equals 2 days
Zones 5 & 6 equal 3 days
Zones 7 & 8 equals 4-5 days
Once you have determined that your shipments can be shipped via Ground services, calculate the savings that you would procure if you made the switch.
Shorten The Zone
When it comes to shipping zones, the lower the number the better. How do you lower the shipping zones when your destination could be anywhere? The obvious answer is to move the shipping origin. But of course, moving your office is easier said than done. So aside from moving, how do you move your point of origin closer to your shipping destinations?
Open New Distribution Centers (DC)
If the economic numbers are right, establishing new distribution centers closer to your customers might be the answer. New DC's will enable you to ship products to your customers quicker and cheaper.
You're in control
Less inventory management integration vs. 3PL
Eventual economies of scale vs. 3PL
Outsource Your Origin
If new distribution centers is not an economically viable option, utilize the power and reach of 3PL/Fulfillment Houses to get closer to your customers.
Lowered overhead and capital outlay
Minimal barriers to change
Scalability (up or down)
Leverage 3PL shipping discounts
Zone Skipping
Zone skipping involves batch hauling large volume shipments to a carrier distribution point for further distribution. Let's say you're shipping 5,000 packages from the east coast to the west coast. Having FedEx/ UPS cart them from Point A to Point B is like throwing 5,000 thousand "Hail Mary" passes. Zone skipping involves a single Hail Mary pass and 5,000 short passes. High volume and compact delivery density is a necessity to offset the line-haul costs.
Dimensionalization
Volumetric and dimensional charges have been a moving target for the last several years. Additional Handling definition being the most recent (reduced from 60 inches in length to 48 inches in June, 2017). Power users recognize the power of carton optimization through new packaging and improved cube density.
Non-Standard Discounts
Power users recognize the savings potential in negotiating carrier rates and discounts. Discounts can also be obtained through non-standard programs which may be available to users depending on their size, industry or ownership structure.
Parcel Reseller
Main ones – WWE or Unishippers for UPS; CH Robinson for FedEx
Best suited for companies shipping < $50K annually
Specific carrier "Rules of Engagement" will affect ability to participate
 Trade/ Association Programs
Trade Associations may have negotiated pricing with one or both carriers as a benefit of membership
Best suited for smaller shippers (< $25K annually) as the discounts are fairly generic, but can be better than "flying solo"
Non-industry options as well (e.g. Ebay Powersellers, FedEx Amex program)
  Group Purchasing Agreements
By leveraging hundreds of millions of dollars in buying power, buying groups can offer members SUBSTANTIAL discounts
These are rare and more likely associated with FedEx than UPS
Typically industry-specific, but can also be available based on ownership structure (i.e. private equity ownership)
May require a carrier change to qualify
Power User – Government Contractor Rates
VERY specific criteria and can only be applied to government contract shipments and subject to audit
Amazing rates
Contact your representative if you think you might qualify
Parcel Hybrid Solutions
Power users who can afford to deliver via ground at a slower pace can opt for UPS Surepost or FedEx Smartpost. These two services utilize the power of UPS and FedEx logistics while using the U.S. Postal Service to provide final-mile delivery to customers. These two services are available to users who ship at least 50 packages a week.
Here are some advantages of these two hybrid solutions:
Reduced shipping cost as it is lower than standard ground service
Saturday delivery included without any additional costs
Standard UPS or FedEx pickup times
Unified tracking via UPS or FedEx website
Declared Value
Risk management is an important concern for parcel transport, but Declared Value isn't always the best solution. With regards to risk management, what is your tolerance level for loss? Everyone's tolerance is different so there is no correct answer, but there should be a conscious decision made, then conform to that. Be cognizant of the fact that each package is guaranteed $100 of coverage at no additional charge. Anything over that amount will cost $0.90 for each additional $100 with a $2.70 minimum. Declaring $101 will cost you $2.70 for $1 of extra coverage. You maybe overusing Declared Value and not even know it. Power users recognize this and have utilized other solutions.
Self-Insurance
If your customers pay for the freight (and subsequently liability coverage), charge them for the insurance and then set up a fund from which "claims" would be paid.
Third Party Insurance
Utilize third party insurance coverage backed by a true insurance company. Typically these are significantly less expensive with superior coverage.
Cargo Policy
These policies cover all modes and a parcel "rider" can be obtained for pennies on the dollar.
Carrier Agreement Pitfalls
Last but not least, Power Users recognize the power of carrier rate negotiations. Users can obtain significant savings by renegotiating their UPS and FedEx agreements. Keep in mind these common carrier agreement pitfalls during the negotiation process.
Guaranteed Service Refund/ Money-Back Guarantee Waivers
It's becoming more common for both carriers to include waivers. Be sure to read the 'fine-print' of your carrier agreement to ensure you're not giving up your rights to request refunds when either carrier's service falls short.
Early Termination Language
Not as common but there's no reason that a shipper needs to pay either carrier if the opportunity to move any/ all volume to the competitor presents itself.
Returns Not Discounted
In most cases, UPS applies the outbound ground discounts to return ground shipments where FedEx applies only the base discount. If you're comparing the two carriers and have a large amount of return volume, be sure to account for this difference as it could be costly.
High Minimums
Both carriers set minimum charges for each service so that no matter how deep the discount is the lowest cost for any package is that specific minimum charge. These minimums are usually shown in a chart after the discount pages of the carrier agreement. You'll want to understand the impact of these minimums on your package costs in order to maximize your savings and take full advantage of the discounts being offered.
Residential & DAS Discounts Not Applicable To All Services
This is in the "fine print" and you'll want to make sure the discounts the carrier is offering cover the services you utilize the most.
"Sexy" Grace Period Discounts
These are sometimes called "ramp-up" discounts and are usually offered when moving from one carrier to another in order to help the shipper meet the required minimum commitments to receive. Ensure you understand the length of the grace period and that you'll be shipping enough to meet the commitments when the grace period ends.
Earned Discount / Rolling Average Resets
This usually occurs when grace period or ramp-up language is included in the agreement. Ensure you understand when reset is set to occur and that you'll meet the required spend commitments at that specific time.
Surcharge Discounts Expressed As $$ Off vs. % Off
At first glance, a dollar off discount looks good but as time goes on and the surcharge increases, the dollar off loses its luster. For example, if you have a $1.00 discount off of a surcharge that's currently $2.00, the net cost would be $1.00 (50%). If that surcharge increases to $2.25, your net cost would then be $1.25 (44.6%). Now, if you had a 50% discount on that same surcharge, the first year net would be the same ($1.00) but the second year net would be $1.13. When broken down it's easy to see why a percent off is more advantageous than dollar off.
Deferred Rebates
Depending upon your annual spending, a rebate might be enticing. While UPS is more likely to offer an annual or quarterly rebate, both carriers use these to help avoid getting too aggressive on their service-level and accessorial discounts. They're not always a bad thing but you'll want to ensure the amount of the rebate greater than the impact of any discounts that the carrier would otherwise be able to offer.
Related Resource


About Rich Harkey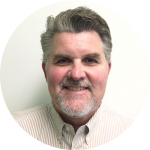 With 27 years of experience working in the transportation/logistics industry, Rich brings a wealth of experience, knowledge and perspective that is of great value to Strategic Choice Partners and its clients.
His goal within the transportation/logistics industry over the past 27 years has been to assist all clients to become more efficient and drive costs out of their systems. This has been achieved through Common Carrier Freight & Small Parcel Rate Negotiations, Customer Relations, Business Strategy Planning, Supply Chain Management, Fact Finding, and Vendor Compliance.
Learn more about Rich on his bio page, and contact us at info@strategicchoicepartners.com if you'd like to discuss how Rich and SCP can help your company.