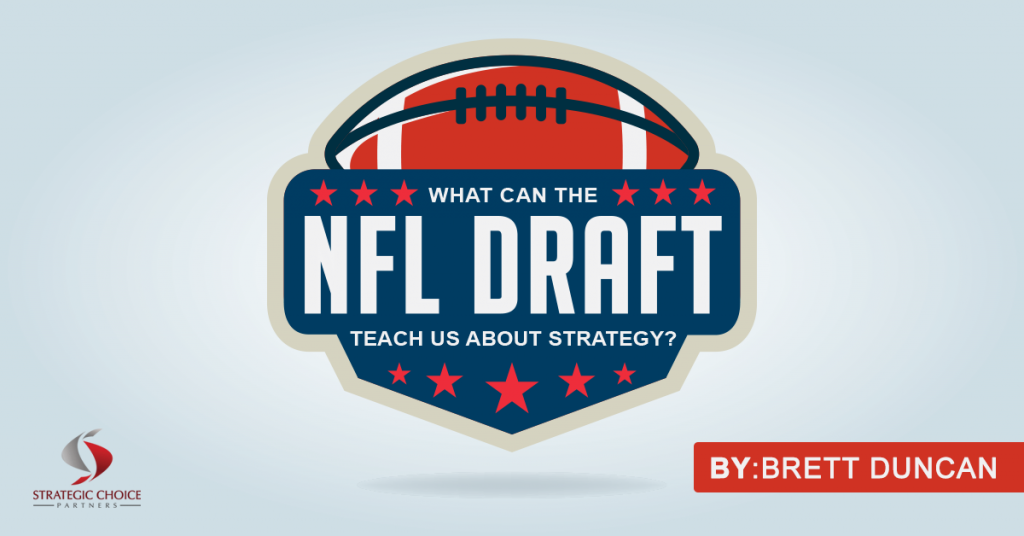 Last week (April 27, 2017), we Americans got to enjoy what has quickly become a national holiday. Or at least it seems that way. It's the NFL Draft. Lots of analysis and educated guessing goes into the days, weeks and even months leading up to it. And since the draft, there's been no shortage of grading and analysis, as well.
I definitely get excited about the draft, too, but for different reasons.
I absolutely love what the NFL draft teaches us about strategy. Because, even though all 32 teams have a chance to draft from the same pool of players over about seven rounds, some do it really well, and others do it really poorly. And it all comes down to the clarity of and focus on their strategy.
So, I'm not exactly sure what applies directly to everything we do as corporate execs of direct selling companies, but I do know a fresh look at strategy is never a bad thing. On the surface, it may encourage you to rethink your hiring strategy a bit, but I believe the lessons go deeper than that. So here are some quick, shoot-from-the-hip, random takeaways when it comes to strategic tips from the NFL Draft:
Best Player Available (Be the Best)
The Best Player Available approach is really the most straightforward approach. In a nutshell, a team at any given time may choose to go with the best player available to them at that time, for that pick, regardless of what position they play. When applying this approach to the early rounds, the thinking goes that bringing on a high-talent player will simply make the team better, even if it doesn't necessarily address a positional need. Better is better, right? In later rounds, the thinking goes more like, "well, we aren't exactly sure if any of these players available will pan out, so let's not overthink it and just make the best choice with what's available to us and see what happens."
We all want to be the best, right? Many a direct sales company sets out to be the best at everything … best products, best comp plan, best customer program, best branding, best online tools, etc. And that all sounds great. But the problem with this approach is that it often lacks an appropriate level of strategic thinking.
In the case of an NFL team, you can see where this approach could be counterproductive pretty quickly. If the best player available every time you pick is a running back, then it doesn't really make sense to pick a bunch of running backs. There's more to success than just a running back. The same goes for our businesses. We can't simply choose to just be the best at everything all the time. That's unsustainable, if not unattainable. We must choose what we want to be the best at. Which leads to my next point …
Positional Needs (Identify the Gaps in What You're Doing, and Fill Them)
Every team is aware of which position(s) they need to address at the time of the draft. For example, the Dallas Cowboys (my local team) made it pretty clear upfront that what they needed most was a) a defensive end that could rush/sack the quarterback, and b) cornerbacks and safeties (defensive secondary) that could help them cover the field. And that's exactly what they picked in the draft in the first three rounds (and beyond).
You know what the Cowboys didn't need? A quarterback (they got that last year). They also didn't need any offensive linemen (they already have pretty much the best line in football).
As a strategic business leader, it's not enough to simply want to be the best; you have to clarify what specific strategies and tactics will bring you the success you're looking for in the timeframe you want it. So, while you could definitely modernize your brand and all that entails, it may not have the impact on your success in the way that, say, a comp plan update could. Or maybe you know upgrading your digital backoffice could be a huge help to your business, but it pales in comparison to what a product launch could do.
We execs must constantly clarify what's needed NOW, and focus our limited resources on addressing those needs, while also clarifying and planning for future needs.
Know Where Your Team Is At (Who and What Do You Have a Right to Be and Do?)
News Flash: the Cleveland Browns will not win the Super Bowl in 2018.
If you're not a football fan, trust me when I say that making a "bold" prediction like this is really not bold at all. That's because the Cleveland Browns are simply not in a position right now to contend for the championship. But that's OK, because they are aware of where they're at, and they are planning accordingly.
You see, by knowing that the road to the championship is long, and that they are more than just a couple players away from making it happen, the Browns were able to make strategic decisions during the draft to help set them up for success a few years from now. Their awareness of where they were and what is realistically possible for them helped them make good decisions.
In the same way, other teams actually do feel like they are right on the cusp of a championship, so it, too, shaped the way they treated the draft. By many critics' account, the Houston Texans are just a quarterback away from being a top team in the NFL. So they made moves to fill that need. 
Direct selling companies seem to struggle with accepting who they are and what they can realistically accomplish. Timelines are often way over-promised and under-delivered. Companies that have thrived at attracting baby boomers think they can simply update their packaging and do some social media to attract millennials. Startup companies want to act like 20-year-old companies, and 20-year-old companies want to act like start-ups.
If this sounds like you at all, it's a sign that you haven't accepted where your company is at and what it can realistically pull off. This may sound deflating, or even depressing, but it's just the opposite. Only when you are aware of and accept where you are and what you're capable of can you actually execute effective plans to move you forward.
Trading Down (Be Patient and Invest)
A tactic that has become extremely popular and powerful is trading down in the draft. Essentially, if your draft strategy shows that your needs can actually be met at a later pick in the draft, then you can trade that pick with another team and pick up normally more than one pick later in the draft in return. In this year's draft, the 49ers pulled off an amazing example of this by making a total of six trades and picking 10 total new players.  And, of course, the Cowboy's Coach Jimmy Johnson set the gold standard for this 25 years ago with his genius deal (and generally considered the most lopsided deal in sports history) when he traded player Herschel Walker and four draft picks to the Vikings for five current players and what turned out to be eight draft picks.
Trading down in the draft is the sign of a team that is clear on what they want and how to get it, and they're willing to be patient to see it happen. It's also the sign of a team who values investing not only in winning now, but also in their future.
Are you patient as a strategic leader? Can you stay true to your strategy when everything around you is tempting you to do it all differently? Can you take advantage of market conditions or operational constraints in a way that positions you for success longterm? That's what trading down looks like in our companies.
Trading Up (Be Aggressive Now)
Of course, anytime someone trades down, that means someone else is trading up. In this case, a team has clearly identified what/who they want, and they feel threatened that the player won't be available for them at their next pick. So they do something about it.
In this year's draft, the Bears, Chiefs and Texans all traded up to get their quarterback. We'll see if the players pay off. Regardless, these three teams had obviously clearly identified what they wanted from this year's draft, so they did what they had to do to make it happen. In most cases, it meant sacrificing future opportunities (later picks in the draft, picks from future drafts, etc.).
There are times that we must be aggressive as leaders. When we are clear on the few things that will impact our success the most, then we are in a position to act swiftly when the market conditions present themselves to act. This may look like an acquisition. It may look like opening a new country. It may be committing to a bold new direction once you're convinced your current direction isn't working.
Whatever it is, the key is to recognize the season that you're in. Yes, it will take a sacrifice (money, people, etc.), but if it's the key to your success, and the opportunity is unfolding all around you, then you must be aggressive and make it happen.
Every Draft Has a Theme (Know your Market)
Last year was a bit of a quarterback draft. This year's draft had a large crop of pro-level cornerbacks and safeties. Every draft looks a little differently, because the players that colleges are producing year-to-year can shift in terms of what positions represent the top talent.
When you know that a particular draft is high on talent in certain areas, it definitely influences your strategy. For example, in this year's draft, many of the cornerbacks that went in the second and third rounds would have often gone in the first round in other years. But because the talent level of that position was so high and plentiful in this year's draft, teams were willing to wait until they picked this position until later, because they knew the talent to choose from would still be great.
Inversely, some teams may really need a quarterback, but if the overall crop in a draft is week on the quarterback front, it sometimes makes sense to just wait until next year's draft.
As execs, we must be aware of the market conditions around us. While we can't control most of these conditions (just like a team can't control what positions are the most talented in a draft), we can be aware of those conditions and navigate accordingly. This knowledge may shape your decisions in a certain area. They may make you aggressive when you otherwise wouldn't be, or they may cause you to step back when everyone else is stepping in.
Systems Determine the Players (Systems and Culture Make a Difference)
The New England Patriots are known for having a system, and staying true to that system. For them, the system comes first, and every player's commitment to that system is absolutely necessary for them all to be successful. Coach Belichick is known for telling his team to "know your role; do your job." This means they must know the system and where they fit into it.
Practically, this shows itself quite fundamentally on defense. If a team runs a 4-3 defense, they have 4 defensive lineman, and 3 linebackers. Some teams run a 3-4 defense, with only 3 defensive linemen, but 4 linebackers. As you can imagine, the types of players and plays called for these two defensive systems can be very, very different. So, it makes no sense for a team to draft a player who only knows how to play in a 3-4 defense to a team that uses a 4-3 defense (unless you are really, REALLY confident in your transition plan and their ability to change).
You see this all the time in sports. A player fails on one team and excels with another. A lot can go into that, but often, it has to do with that player being a bad fit for the first team's system, and a good fit for the second team's system.
Does your company have "a system?" If so, do your employees know what it is? Is it so clear that you can confidently hire and work in alignment with that system?
Chemistry and Integrity Matter
Every year, you hear about very skilled players who have "character issues." These are players that typically have had drug problems, or domestic violence issues or other borderline criminal behavior. And every team has a different philosophy about drafting these players.
For many teams, they simply decide they will not draft a player whose character and integrity are in question. Other teams feel like they can help that player overcome their past mistakes and move on. Other teams don't seem to care about character and integrity as long as the talent is there.
I'm a big believer in chemistry. While you can coach people on your culture and help them adapt, adding an element that disrupts team culture is hard to overcome and "coach up." So many leaders fail at hiring well because they don't balance skill and ability with chemistry the correct way. They don't appreciate that "fit" factor. How do you balance fitting in with your culture and team chemistry with skill and experience?
It Takes a Village (Forming a Powerful Team)
One thing that becomes abundantly clear is just how many different people are involved in the draft process for each and every team. There are owners, general managers and coaches. There are coordinators and trainers. There are scouting teams. There are security and investigative specialists. There are financial analysts and data hounds. A lot of people work together for a team to pick 5-10 players in a draft each and every year.
As you can imagine, the teams that seem to draft the best are the teams that have the best front office support.
How would you grade your own team? Do you delegate appropriately? Do your team members make your job easier, or harder? Does your team consist of people who are true experts and specialists?
There's Always Free Agency (Outsource What You Should)
Finally, we must remember that the draft isn't everything. Teams can trade other players with other teams. Many teams depend on free agency, or signing existing players, to their teams. And this can definitely help a ton.
For direct selling companies, I liken this to outsourcing work and solutions to proven experts in the designated area. So many companies depend on the expertise of contractors and well-known consultants (like Strategic Choice Partners 😉 to help them address certain components of their strategy. Are you utilizing outsource-able capabilities as well as you could?
What Do You Think?
OK, those are my random tips that the NFL Draft inspires. What's your take? What did I miss?
Related Content: