Marketing & Communications Strategist
Managing Principal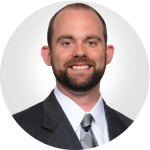 Brett is a founding partner with Strategic Choice Partners, and an experienced executive specializing in marketing, communications and digital strategic consulting.
He worked for his first direct sales company two days a week while still in college packing shipments in their warehouse from 5:00 pm until midnight. He began at the entry level of the marketing department at AdvoCare, International in 2002, rising to the position of marketing manager before he left in 2007. In 2009, he joined Mannatech as Sr. Director of Global Online Solutions. He was then promoted to Vice President of Global Marketing in 2011.
During those years working for direct selling companies, Brett had the privilege of supporting and leading just about every type of project within the marketing, communication and sales space. He has led efforts in creative, product marketing, communications, publicity and PR, social media, search engine optimization, events, retention, recognition and more. He's worked on the International level, and for both private and public companies.
Brett Duncan also served as the Chairman of the Communications Committee for the Direct Selling Education Foundation from 2011 – 2014. He's passionate about seeing the direct sales industry flourish.
For many years, Brett's vision was to create a business that helps direct sales companies energize their ideas. In March 2014, he started his own firm built on that very premise, and it quickly evolved into Strategic Choice Partners. It's a business development firm built specifically to help direct sales companies make their ideas happen, and happen faster. It's about energizing your ideas with the insights and expertise to construct the right plan, build the right team and execute with excellence.
Brett lives in Flower Mound, TX, with his wife of almost ten years and his five-year-old son. He was born and raised in Kentucky and came to Dallas to play college baseball at Dallas Baptist University. He enjoys playing guitar as part of his church's worship ministry and enjoys just about every kind of sport.
Connect with Brett on LinkedIn and Twitter.
Areas of Expertise
Marketing & Communication Leadership
Strategic Facilitation and Planning
Online Strategies and Tools
Executive Coaching
Customer & Consultant Retention Strategies
Digital Roadmap Planning
Testimonials
Brett played a significant leadership role in organizing and facilitating a critically important strategic planning exercise for the Direct Selling Education Foundation.  He spent a great deal of time understanding the challenge we faced and was able to effectively and efficiently organize the session and lead us through the challenges inherent in a strategic planning session. In my view this was one of the most effective strategic planning sessions I've ever participated in, primarily because of Brett's efforts."

Kerry Tassopoulos, Vice President, Regulatory Affairs

Mary Kay
Working with Brett is both productive and streamlined. His likable style makes working with him easy, but he doesn't sacrifice results in the process. He's very aware of what constitutes a relevant direct selling business, and his mutli-faceted strategic view across all sales and marketing channels leads to quite a comprehensive assessment that's both motivating and practical."

Christina Snyder, Chief Sales Officer
I was recently part of a strategic session with the DSEF where Brett Duncan served as our facilitator over a two-day period, and it was one of the best strategic sessions I've ever been a part of. Brett provided the perfect balance of pushing us when we really needed to lean in on certain thoughts, and backing off when the group was driving the conversation seamlessly on our own. In addition, he pushed us to define clear goals and clear next steps so we had a plan we could actually do something with immediately. It was a great experience, and it's already manufacturing positive results."
Dave Wentz, Co-CEO
USANA
The world of marketing, communications and social media are changing so rapidly I'm glad that we consulted with Brett Duncan to review our current plan and give us suggestions for improvement. Brett also helped us identify the exact skillsets and job description to get the job done and we are very pleased with our new hire!"
Melissa Soete, Sr. VP of Sales
SwissJust North America
Brett Duncan is a unique blend of driving intensity into a condensed time frame, understanding complex issues in a room full of strong opinions, while keeping the participants at ease.  In our work with DSEF, Brett's uncanny ability to read a room, to bring focus when the issues are off track is a gift to a tough process."
John Parker, Chief Sales Officer
Amway
Brett is a pleasure to work with, understands a case for change, plus brings clear and actionable outcomes to the strategic process in a specific time frame."
Kim Drabik, Manager of Industry and Shareholder Relations
Amway
Brett is a thoughtful and creative leader. He understands the eccentricities of brand marketing, the complexities of corporate communications, and is highly knowledgeable in terms of what it takes to be successful in direct sales."
Calvin Jolley, Vice President of Communications
4Life Research
I've known, watched and worked with Brett since 1995.  With impeccable character and integrity he has distinguished himself with excellence in all he touches.  From our journey together as friends, to our working relationship at AdvoCare and continuing to this moment I enthusiastically commend him to you; your life and your enterprise will be better for knowing and working with Brett."
Rick Loy, Vice President of Training and Field Development
AdvoCare