Marketing & Graphic Designer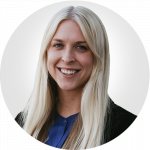 Brooke Hawkins is the owner of Hawkins Design Co, a boutique design agency that specializes in marketing and graphic design, catered to direct sales companies. Brooke has worked with numerous companies helping them develop a consistent and memorable brand across all platforms from social media to web design to print materials and advertising. 
She started her career in the nonprofit sector where she served as the Communication Director for Serve Denton, the second-largest nonprofit center in Texas. She oversaw all of the organization's marketing efforts and created the overall communication strategy, helping the nonprofit go from a startup to a million-dollar organization.
Brooke lives in Denton, TX with her husband Bret who is also a graphic designer and owner of an all-natural gnome-themed snow cone store called Gnome Cones.
Testimonials
Without the slightest hesitation would I encourage anyone to reach out to Brooke for top-notch, quality and timely design and graphics projects.

She always seems to know what exactly it is you're looking for with minimal direction or feedback, she takes on every project—be it big or small—with energy and enthusiasm and delivers with plenty of time to spare. It's always a pleasure teaming up with Brooke on our marketing and social media projects."

Maria Loera, Communications & Social Media Manager
Just USA*
Brooke is our website angel! From the build to implementation, she was there to make every adjustment we needed! No detail escapes her! We look professional and accessible. Thank you!

Kate Gardner, Co-Owner
C3 Executive Search*
*This person may have been working for a different company during their engagement with SCP.